Thyroid malignancy association with cortical & cubcortical brain SPECT changes in patients presenting with a myalgic encephalomyelitis / Chronic Fatigue Syndrome. AJ38-2
Print version
Abstracts
Thyroid malignancy in ME/CFS patients greatly exceeds the normal incidence of thyroid malignancy in any known subgroup. The thyroid malignancy incidence in the ME/CFS group may exceed 6,000 / 100,000. As part of their investigation, Myalgic Encephalomyelitis / Chronic Fatigue Syndrome (ME/CFS) patients should be examined by thyroid ultrasound for evidence of thyroid pathology and malignancy. Thyroid pathology may be missed in this group of patients if investigation relies only upon serum testing for TSH, FT3, FT4, microsomal and thyroglobulin antibodies, which are usually normal. Thyroid uptake scans tend also to be normal and may also miss malignant lesions. A newly recognized syndrome may exist in ME/CFS patients characterized by: (a) thyroid malignancy, (b) persistent abnormal cortical and subcortical SPECT brain scans (NeuroSPECT), (c) failure of thyroidectomy surgery and hormone replacement to correct the fatigue syndrome, and (d) an unusual high incidence of cervical vertebrae osteoarthritic changes. ME/CFS patients with treated non-malignant thyroid disease and abnormal NeuroSPECT scans may also fail to improve despite adequate thyroid hormone replacement. A brief summary of the differences between ME and CFS is discussed.
Lee, Hur and Ahn [1] stated that thyroid malignancy is said to be an infrequent occurrence found in 0.5 to 3 patients per 100,000 in the general population. They noted that in a subgroup of patients booked for mammography, a thyroid ultrasound was also performed. In this group, they found thyroid malignancy frequency was as high as 3 per 100,000. It is not known if their subgroup was at a higher risk for malignancy. Mittelstaedt [2] in the Globe and Mail states that thyroid malignancy was 15 per 100,000,
In the past 100 patients whom I have investigated for (ME/CFS)[3], with or without associated Fibromyalgia Syndrome (FS), I have found that 6% of these patients had thyroid malignancy. In each of these patients the diagnosis was made by ultrasonography and needle biopsy under ultrasonography. This was followed by surgical removal of the thyroid, and each case the malignancy was confirmed. These findings would suggest that 6% of the ME/CFS patients seen, or 6,000 cases per 100,000, had a confirmed thyroid malignancy. Unfortunately, these figures may be conservative since we are in the process of obtaining needle biopsies on six further cases of these first 100 patients. In addition, we have not yet performed thyroid ultrasound on all 100 cases. We are in the process of further investigation of those patients who had not yet been investigated by thyroid ultrasound.
Previously, it has been noted that the increased incidence of thyroid malignancy in the general population is only associated with increased radiation exposure. Patients presenting with symptoms of ME/CFS or Fibromyalgia may have significant higher thyroid malignancy incidence.
NeuroSPECT was performed with the radiopharmaceutical NeuroliteTM and processed with the software Neurogam by Segami Corp.( Maryland USA.)
Key Words: Thyroid Malignancy, M.E., Myalgic Encephalomyelitis, CFS, Chronic Fatigue Syndrome, SPECT.
Post-surgical pathology findings
a) Patient 1: Encapsulated follicular variant of papillary carcinoma. Figure 1 and 2.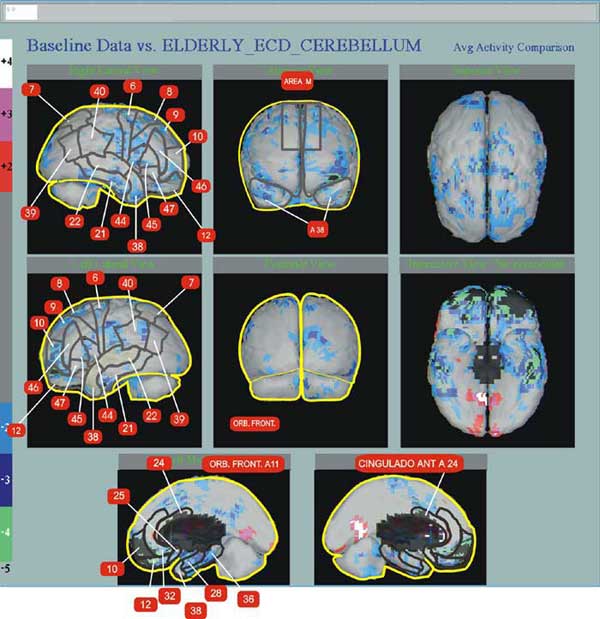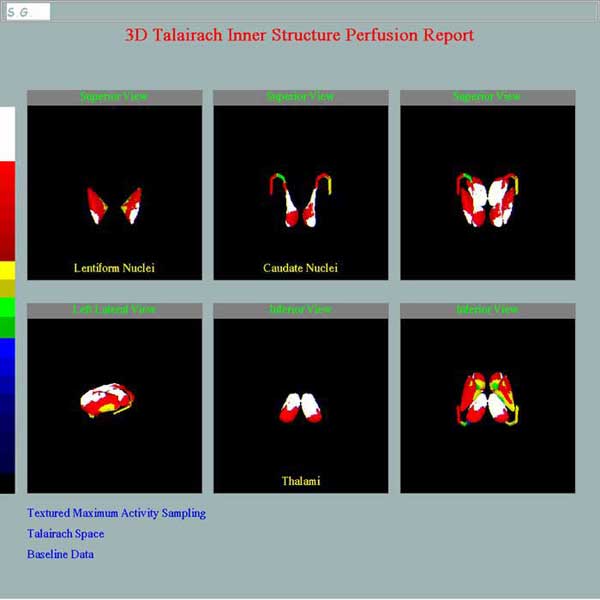 b) Patient 2: Encapsulated follicular hurthle cell carcinoma with neoplastic cells invading through the capsule. Hashimoto's thyroiditis plus extensive inflammatory disease. Figure 3 and 4.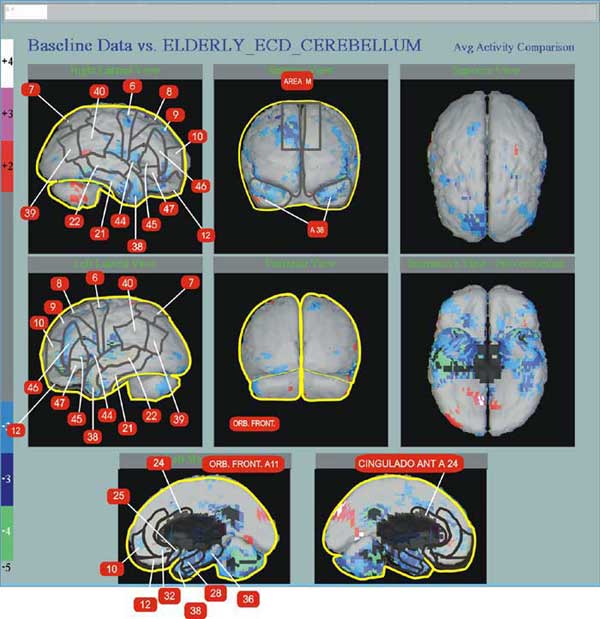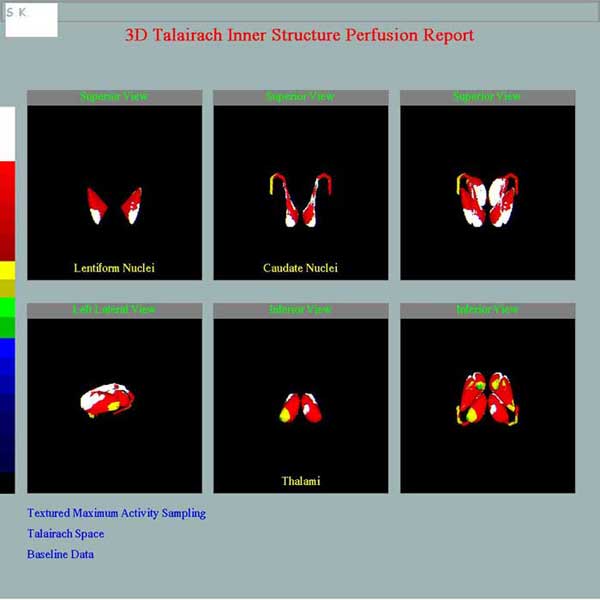 c) Patient 3: Papillary carcinoma, Hashimoto's thyroiditis, lymphocytic thyroiditis. Figure 5 and 6.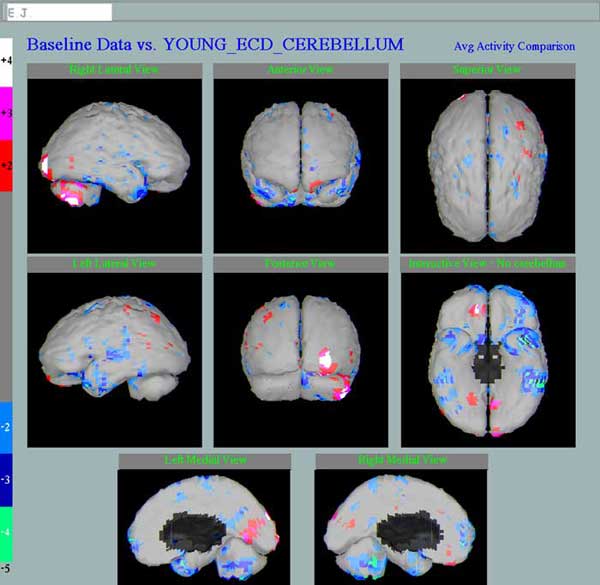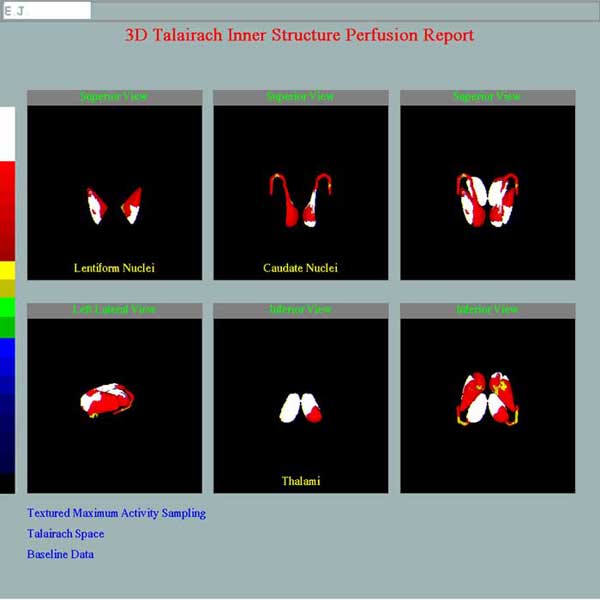 d) Patient 4: Well differentiated primary follicular carcinoma or follicular tumor of uncertain malignant potential; a second similar tumor with possible spread from the first primary; a third diffuse C-cell hyperplastic lesion. Figure 7 and 8.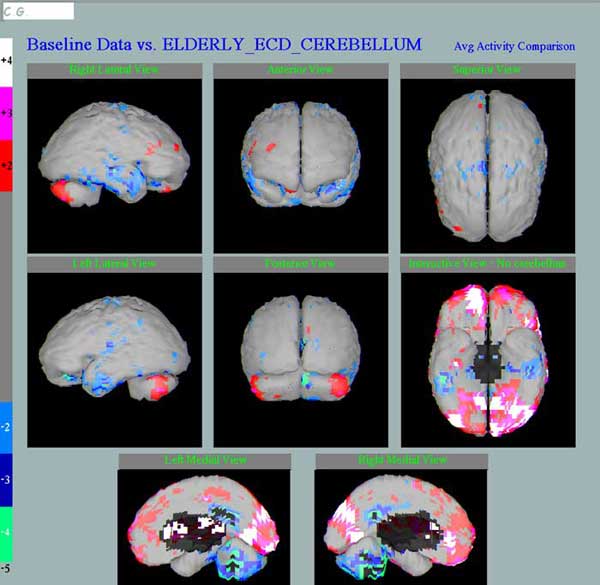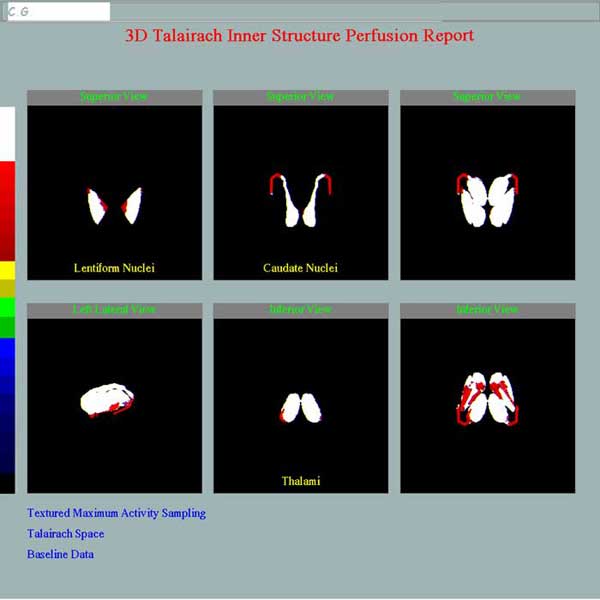 e) Patient 5: A 1.3 cm papillary carcinoma in the left lobe; a microscopic malignancy in the right lobe. Figure 9 and 10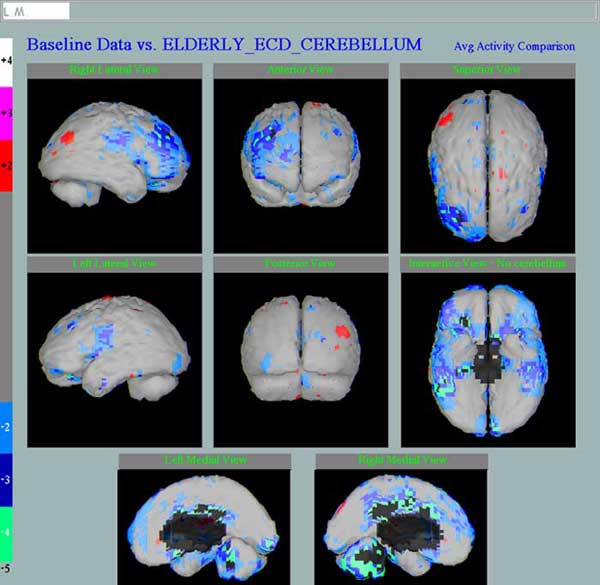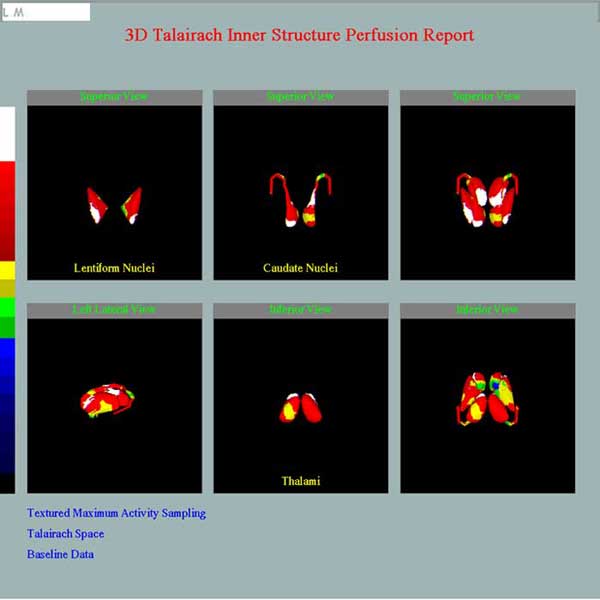 f) Patient 6: Papillary carcinoma with invasion across the capsule and local spread outside the thyroid. Figure 11 and 12.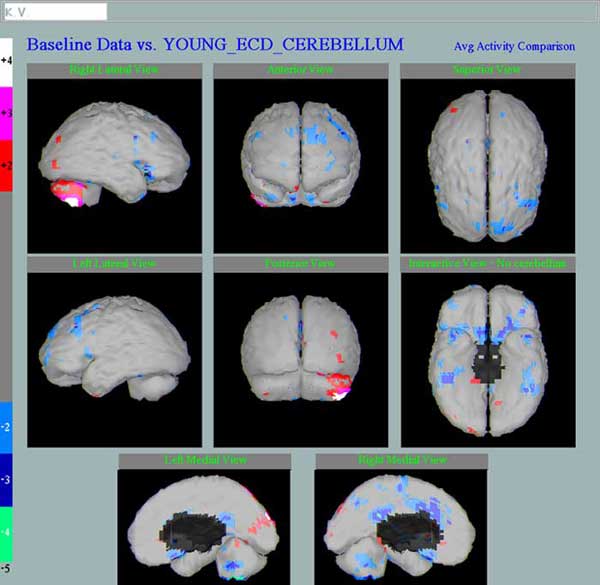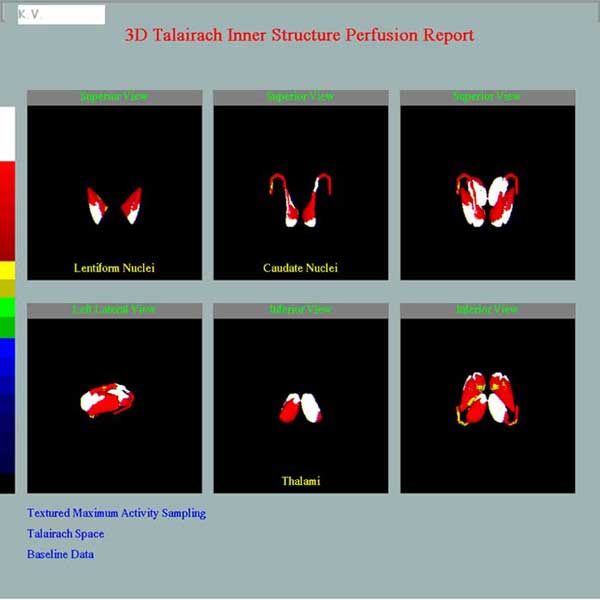 Table 1.Some of the curious features in this thyroid malignancy group of 1 male and 5 female patients are as follows:
| | |
| --- | --- |
| 1. | Patient 6 had an initial lesion measuring 0.5 x 0.7 cm. It is normally difficult to have the radiologist perform a biopsy in solitary lesions less than 1 cm diameter. This lesion was biopsied due to increased vascularization. Despite the small size, this malignancy had already spread beyond the thyroid gland. |
| 2. | Each of these patients had a history of a significant ME/CFS and/or FS for 5 to 7 years prior to the discovery of the thyroid malignancy. |
| 3. | With one exception, 5 of these 6 patients had normal serum TSH, FT3, FT4 and Microsomal antibodies. Only one of the 6 patients had any serum indication of thyroid abnormality and this patient, the male, had a normal TSH, FT3 and FT4 but elevated antimicrosomal antibodies of 1:1600. His post-surgical thyroid demonstrated Hashimoto's thyroiditis. None of these patients were subjected to Thyrotropin-releasing-hormone (TRH) testing, so it is not possible to state whether they may represent hypothalamic or hypo-pituitary thyroid disease. Although 6 percent of our ME/CFS patient have thyroid malignancy, up to 25% of the remaining group have ultrasound evidence of Hashimoto's thyroiditis or other thyroid injury, many without TSH, FT3, FT4 but a modest number of these with antibody signs of thyroid disease. |
| 4. | Each of the 6 patients had abnormal NeuroSPECT findings. The findings in each consisted of hypoperfusion in both middle cerebral artery areas as well as subcortical hyperperfusion. |
| 5. | It is impossible to know whether the fatigue/pain syndrome preceded the malignancy or not. However, despite close supervision and hormonal replacement treatment by endocrinologists after the removal of the diseased thyroid, there was no improvement on their fatigue syndrome. |
| 6. | Five of the 6 patients had cervical disc disease: 3 demonstrated significant cervical vertebrae pathology, and 2 demonstrated minor cervical vertebrae pathology. Only 1 had a normal cervical spine. There was an increased association with cervical vertebrae pathology and the length of the history of a fatigue syndrome, as follows: |
| a) | Patient 1: Extensive disease in entire C3 – C7 spine with foraminal encroachment at C3 – C6 bilaterally. |
| b) | Patient 2: minimal changes at C5 – C6 levels. |
| c) | Patient 3: Degenerative disc disease in entire cervical spine, but most prominent from C4 – C6, with disc protrusions resulting in mild flattening of ventral thecal sac and cord impingement. |
| d) | Patient 4: Normal cervical spine. |
| e) | Patient 5: Arthritic changes with disc space narrowing at C5 – 6. |
| f) | Patient 6: C2 – C6 disc pathology spondylitis and osteophytes, anterior sclerosis and lipping at C5 – 6. |
Discussion
Myalgic Encephalomyelitis and Chronic Fatigue Syndrome are frequently dismissed as variants of psychosomatic or neurotic illnesses by a large number of serious physicians. Yet I have found that patients with this group of diseases are a treasure trove of diseases. Since the CDC first defined this group of illnesses as Chronic Fatigue Syndrome in 1988, and through the further definitions of CFS, all physicians attempting a new definition have insisted that CFS is a syndrome and not a disease. Unfortunately, even those defining the illness have tended to treat CFS as a disease and speak of it as a disease, rather than investigating the entire patient as to the causes of their fatigue syndrome. There has been some movement to consider these syndromes as the same. They are not. ME is essentially an acute onset, post-viral illness with CNS, organ and immune system implications or pathologies. ME has a clearly defined incubation period of 4 to 6 days, and is well known to occur in epidemics. CFS is essentially defined by a persisting fatigue state of six months or more in a patient who rapidly exhausts both physical and cognitive abilities, and who is slow to recover to decreased baseline ability. CFS can have either an acute or gradual onset, has no known incubation period, and has no organ associated pathology other than the immune system. ME has the attributes of a disease process, whereas CFS is clearly a syndrome.
Each of the 6 patients fell ill abruptly after an acute infectious disease. Their illness was such that they could no longer function at a normal level after the onset of their acute illness. Each of the 6 patients had significant CNS dysfunction by history, and significant evidence by NeuroSPECT of CNS involvement of both cortical and subcortical brain perfusion. Under the above interpretations of ME and CFS, these 6 patients would fall into the ME group of patients. I would like to state that all ME patients might be confirmed by measurement using SPECT and PET brain scanners. Unfortunately, due to the lack of availability of high-quality brain-dedicated SPECT scans, and the even greater rarity of dedicated PET brain scanners and appropriate software, these tools may not be available to the majority of physicians.
Patient 5 also had evidence of parathyroid dysfunction.

Patient 1 had post-surgical complications and went into parathyroid failure. She lived in a very rural area 60 miles away from the nearest secondary hospital and 120 miles from a principal hospital. The parathyroid failure was responsible for a minor myocardial infarct. Patient 5, also a rural resident, went into a post-surgical parathyroid crisis that was easily corrected at a nearby secondary hospital. She has also had a persisting vocal cord dysfunction. Patient 6 had a short-term vocal cord dysfunction and recovered.
Patients 1 and 3 developed autoimmune blood cell injury that at the moment is ongoing.

At the time of writing, the 6 patients have a 1 to 3 year post-surgical history. None of the 6 patients have had any improvement from their fatigue syndromes. In some of these patients, their illness has further deteriorated. There has been no brain perfusion improvement in the 4 patients who have had a post-surgical NeuroSPECT scan. Travel considerations have prevented repeat SPECT scans in 2 patients. One has to consider that the primary fatigue syndrome in these patients is not related to the thyroid pathologies, but to the persisting brain dysfunctions as measured by the NeuroSPECT.
There was an obvious immune dysfunction in those patients who could be measured for immune function anomalies. Unfortunately, although testing of immune function is generally available in North America, the accuracy of individual laboratories and their protocol are not standard and may not be comparable. Repeat, detailed accurate immune studies are not generally available and are very expensive, and were beyond the scope of this study.
The cervical vertebrae pathology noted may be mere coincidence, but is being followed up in other ME/CFS patients with thyroid pathology. However, only 1 of the subjects, who played college football, had any significant history of cervical vertebrae trauma. ME/CFS patients describe muscle weakness as a primary dysfunction. Neck pain is a common complaint in this group of patients. It is possible that, due to cervical muscle weakness, the cervical spine is forced to support the weight of the head directly. Over a period of time this may incur repeat low-grade trauma that results in cervical vertebrae and disc pathology.
Although only 2 of the 6 patients demonstrated pathological findings consistent with Hashimoto's thyroiditis, one should also consider whether these 6 patients, each with persisting evidence of CNS encephalopathy, do not constitute an early but persisting Hashimoto-like encephalopathy.
All 6 patients with thyroid malignancy have subcortical NeuroSPECT pathophysiology. I have yet to find an ME/CFS patient with thyroid malignancy that does not have subcortical pathology. The primary injury and cause of fatigue in ME/CFS patients is probably not in the thyroid, since patients with treated malignant or non-malignant thyroid diseases general fail to recover.
Conclusions
1. ME/CFS patients who demonstrate the following:
Abnormal SPECT scans involving cortex and subcortical perfusion defects,



Thyroid malignancy,



Whose fatigue syndrome does not recover after appropriate surgery and thyroid hormone replacement, and



Have a tendency for cervical vertebrae pathology may constitute a chronic subgroup of ME/CFS patients.
2. ME/CFS patients should all be evaluated by thyroid ultrasound and, where appropriate, needle biopsy to rule out thyroid malignancy and other thyroid pathology. The fact that ME/CFS patients may have normal serum chemistry for TSH, FT3, FT4 and normal Microsomal and Thyroglobulin antibodies does not eliminate thyroid disease.
3. A chronic Hashimoto's Encephalopathy–like syndrome may be concurrent with ME/CFS patients who have thyroid malignancy or multinodular thyroid disease or other thyroid pathology and chronic subcortical & cortical brain SPECT changes. Non-recovery after thyroid malignancy surgery and adequate thyroid hormone replacement may be related to this chronic ME/CFS encephalopathy.
4. ME/CFS patients without thyroid malignancy yet with treated thyroid pathology, and who have not recovered from their fatigue syndrome, may also have a similar NeuroSPECT brain dysfunction.
References
| | |
| --- | --- |
| | Lee HK, Hur MH, Ahn SM. Yonsei Med J. 2003 Dec 30;44(6):1040-4. Diagnosis of occult thyroid carcinoma by ultrasonography. Volver |
| 2 | Mittelstaedt, Martin. Globe and Mail, Toronto 2006 September 12 , quoting Cancer Care Ontario publication August 2001 Cancer in Ontario Young Adults (20-44 years old). Volver |